Type your order sheet number in the blank and click the button to inquire the transacting status.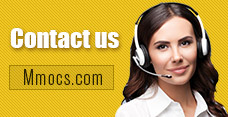 Why Choose Us
Lowest Price
We promise cheapest game currency for all games & platforms with timely update. There're also discounts on holidays.
Quick Transaction
We start transacting and dispatching your purchases once received your orders. No more than 30 mins process.
Safety Assurance
No hacked game currency or account. We promise 100% hand-farmed safe coins & credits with no banned precedent.
Refund Policy
Refund will be processed in 1-2 days, the specifically refund time is based on your payment company. We usually don't accept any request of refund after the order completed.
Notice
Using illegal Leveling or recharge service may cause you account banned!
Destiny 2 Weapon Guide: Best Sniper Rifles for Players in Destiny 2

Cheap Destiny 2 Silver
Destiny 2 Weapon Guide
Destiny 2 Sniper Rifles
Best Sniper Rifles in Destiny 2
2023-05-18 08:59:25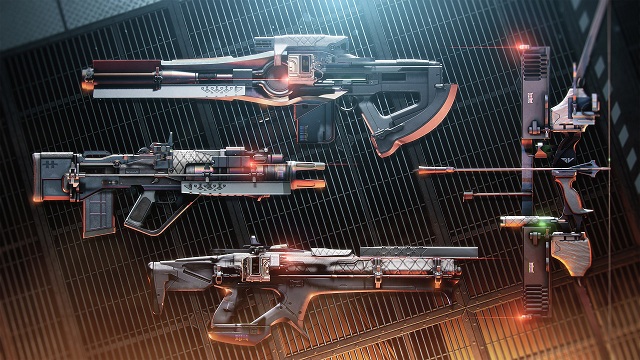 When players are playing Destiny 2, they can choose suitable guns from different kinds of weapons. Some players are willing to use Sniper Rifles in battle. Do you want to know best Sniper Rifles in Destiny 2? We are going to list the best Sniper Rifles in this article. Players can use
Cheap D2 Silver
to purchase useful equipment for characters in the game shop.
The List of Best Sniper Rifles in Destiny 2
The Supremacy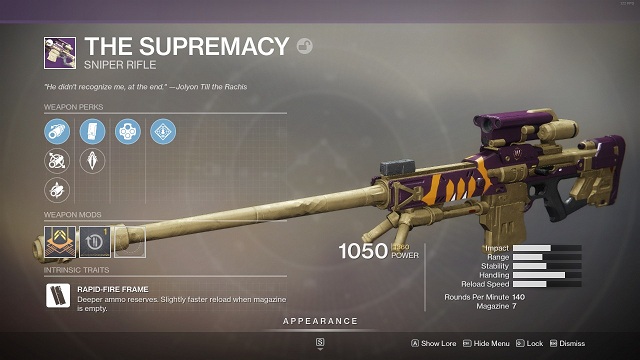 The Supremacy is a legendary Sniper Rifle with high base stats. Based on current stats, it is a better choice than its contemporaries. It has a reasonably high base stat compared to the other Rapid-Fire Frame Sniper Rifles in its class. Players will have a good time utilizing this Sniper Rifle if it has excellent rolls and appropriate mods. Also, this Sniper Rifle is a beast in PvP modes, provided you have the right build. This weapon has a golden color body with a slightly maroon and orange shade.
Izanagi's Burden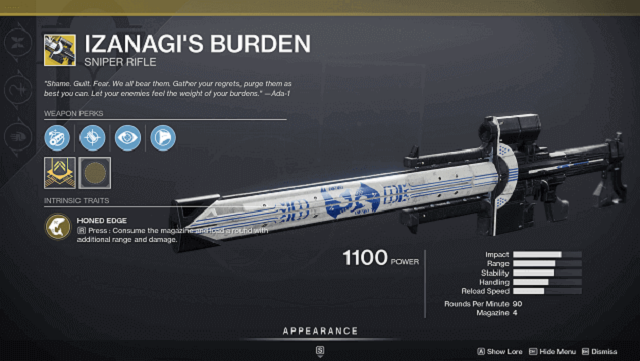 Sniper Rifles haven't been META in Destiny's PvE sandbox for a long, long time. However, Izanagi's Burden always has been, making it one of the best snipers in Destiny 2 based on usage rate alone. It's an integral part of many end-game high-damage strategies, so much so that using it with a Rocket is META, but using any other Sniper Rifle would be considered trolling.
Izanagi's Burden has four shots in the mag. If you have the Catalyst, you can hold your reload button to consume those four shots and combine them into one powerful one. This single powerful shot deals upwards of 250k reliably and pairs with an Auto-Loading Rocket Launcher for the best DPS in the game not named Starfire Protocol. This consumed shot also one-shot-kills Invaders to the body in Gambit.
Cloudstrike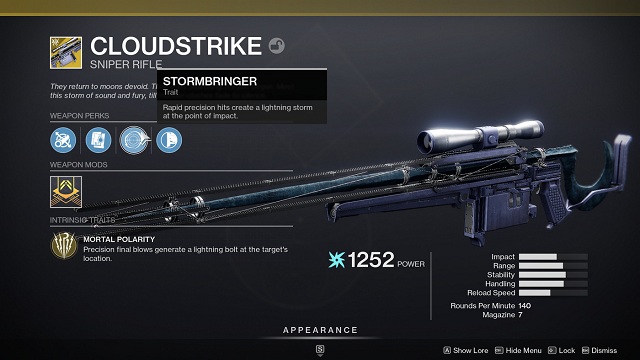 Cloudstrike might surprise some folks, but this is a remarkably strong weapon once you get the exotic catalyst. Raining lighting bolts on your enemies is already a lot of fun, but once you unlock the Triple Tap perk you can deal a significant amount of damage to an enemy. Even though I wouldn't bring this gun into every Grandmaster Nightfall or raid, it's still a superb option when there is an Arc damage bonus modifier. Also, it's sometimes nice to not use the same three or four sniper rifles – especially if you prefer to use a Kinetic primary weapon.
Succession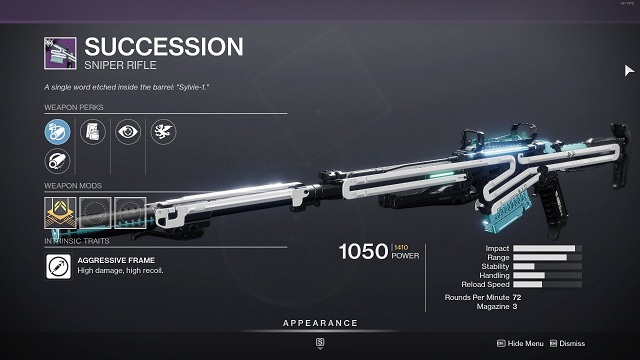 Succession is a legendary sniper rifle that can be obtained from the Last Wish raid in Destiny 2. It has the unique trait "Fourth Time's the Charm," which rewards precision hits with two rounds returned to the magazine, making it an excellent choice for sustained damage in both PvE and PvP activities.
Beloved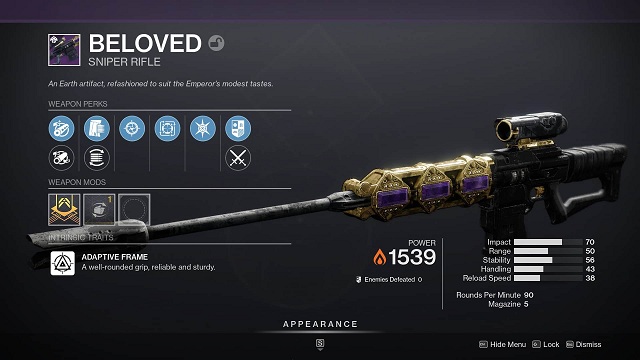 One of the more artistically savvy of the Sniper Rifles in the game, Beloved is easily one of the best Snipers in terms of reliability and consistency. Aside from impressive impact and aim assistance, the rifle also boasts one of the fastest RPMs in the game, making for a rather quick-punching Sniper Rifle perfect for skirmishes.
In terms of overall builds, Hunters may want to consider relying on sheer speed to secure their targets as fast as possible. For instance, Snapshot Sights and Moving Target are great for getting into combat quickly, as both Traits boost ADS time - especially while mobile. Another interesting Trait includes Box Breathing, which boosts damage when waiting at ADS before firing - perfect for those who want to commit to the sniping role.
1000 Yard Stare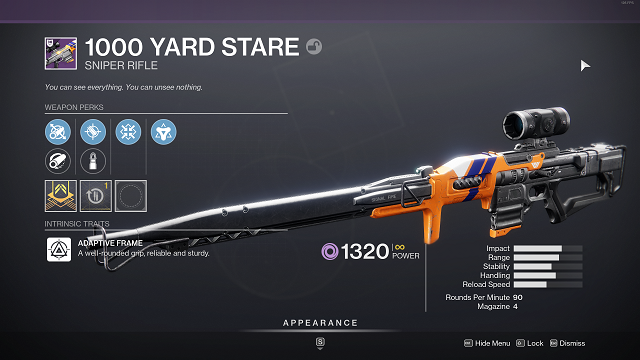 The Grasp of Avarice dungeon brought forward some of Destiny's most iconic weapons, 1000 Yard Stare being no exception. This Sniper Rifle is similar to Beloved when it comes to stats and perks. It has a solid stat package as an Adaptive Frame, can roll with Quickdraw and Snapshot Sights, and resides in the Energy slot.
This weapon is a monster in the right hands, yet the existence of Beloved makes this weapon somewhat tough to recommend. You can either farm the dungeon for a good sniper, or you can wait for Beloved to be sold by Banshee-44 or Xur. If you find yourself disliking Beloved and want something similar, give 1000 Yard Stare a try.
These Sniper Rifles are good choices for players who expect to defeat more enemies in Destiny 2. And if you want to unlock other items for characters, you can
Buy Destiny 2 Silver
to get them from the game shop.