Type your order sheet number in the blank and click the button to inquire the transacting status.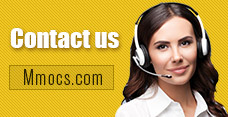 Why Choose Us
Lowest Price
We promise cheapest game currency for all games & platforms with timely update. There're also discounts on holidays.
Quick Transaction
We start transacting and dispatching your purchases once received your orders. No more than 30 mins process.
Safety Assurance
No hacked game currency or account. We promise 100% hand-farmed safe coins & credits with no banned precedent.
Refund Policy
Refund will be processed in 1-2 days, the specifically refund time is based on your payment company. We usually don't accept any request of refund after the order completed.
Notice
Using illegal Leveling or recharge service may cause you account banned!
Genshin Impact Accounts News & Guides
Genshin Impact Upcoming Character Zhongli Release Date, Skills, Banner, Talent Materials and more

Genshin Impact Zhongli Banner
Zhongli Genshin Impact Skills
Genshin Impact Zhongli Release Date
How to Get Zhongli
2020-11-27 08:50:02
How do you get Zhongli Genshin impact? Is Zhongli playable? Genshin Impact is one of 2020's surprise hits, which is defined by his handsome looks, elegant sense of being, and how knowledgeable and refined he is. For more information, you need to keep reading this short article!
Is Zhongli playable?
Zhongli (Chinese: 钟离, Zhōnglí) is an upcoming playable character in Genshin Impact. He first appears as a consultant for the Wangsheng Funeral Parlor in Chapter 1, Act II: Farewell, the Archaic Lord. The new Genshin Impact Version 1.1 is live, and it brings with it some character banners fans have been excited for, adding Zhongli, Childe, Xinyan, and Diona to the game's roster of playable characters. Genshin Impact, from develop miHoYo, took the gaming world by storm earlier this year with a sparkling release on mobile, PC, and PS4, successfully mixing the exploration elements that made The Legend of Zelda: Breath of the Wild so popular with Fate/Grand Order's anime aesthetic gacha gameplay loop. Since the Genshin Impact version 1.1 was released in NOVEMBER 11, 2020, you can play Zhongli freely!
What Are Zhongli's Upgrade Items?
According to a handy graphic that's been making the rounds on Reddit, upgrading Zhongli's talents requires "Gold" talent books and Slime themed items. Meanwhile, to ascend Zhongli and unlock his level caps, you'll need a mix of Topaz, Basalt Pillars, Cor Lapis, and again Slime-themed items. Upgrade materials needed for Zhongli. u/Deviltakoyaki and MiHoYo Collecting everything that's required prior to his launch might seem like a rather daunting task, but here are some places that you can get started on doing just that, along with hard numbers for how many of each material Zhongli will likely need. Also, remember that you can combine lower-level materials at alchemy stations in Liyue Harbor and Mondstadt. The effectiveness of this can be increased using either Sucrose or Xingqiu, who are both available in the Klee Banner.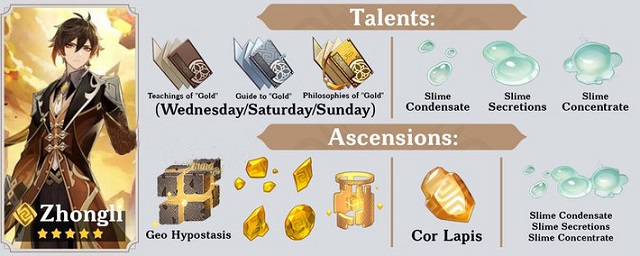 Skill Analysis:
His newly leaked Q skill is really good. Short cooldown, low energy cost, and the petrify last almost half of the cd. From his kit, it looks like he's a main DPS/support type, just like xiangling. How good he is at DPS is really dependent upon his Normal Attack. From the way his kit works based on his max HP, I'm guessing that he'll get HP scaling on his ascension. If his 5th normal attack (the spear kick and then spear spins) does multi-hit similar to xiangling, then crescent pike (4 star craftable) is gonna be great on him as a DPS choice since he can keep constant uptime with his E in the field.
How to Get Zhongli In Genshin Impact
Although Zhongli will be the featured new banner character, he'll still be incredibly difficult to obtain. As a banner character, he'll only be available through Genshin Impact's Wish system. This gacha system is purely RNG-based and requires players to spend Primogems on Fates for pulls. This can lead to spending real money as well, and even then, the chances of getting Zhongli in Genshin Impact are still incredibly low. The pull rate for 5-star characters is somewhere around 0.6%, and it's unlikely Genshin Impact's rates will change before Zhongli arrives in the game. In order to get Zhongli, players should go ahead and start saving up Primogems now. They'll need a lot of time - and even more luck - to pull Zhongli through his banner in the Wish system.
That is all information we know about Zhongli, if you need to find the
best place to buy Genshin Impact Accounts
, we mmocs.com is also your choice!