Type your order sheet number in the blank and click the button to inquire the transacting status.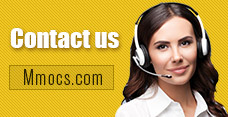 Why Choose Us
Lowest Price
We promise cheapest game currency for all games & platforms with timely update. There're also discounts on holidays.
Quick Transaction
We start transacting and dispatching your purchases once received your orders. No more than 30 mins process.
Safety Assurance
No hacked game currency or account. We promise 100% hand-farmed safe coins & credits with no banned precedent.
Refund Policy
Refund will be processed in 1-2 days, the specifically refund time is based on your payment company. We usually don't accept any request of refund after the order completed.
Notice
Using illegal Leveling or recharge service may cause you account banned!
Apex Legends Coins News & Guides
Apex Legends Guide: The List of Best Heirlooms in Apex Legends

Apex Legends Battle Pass
Buy Apex Legends Coins
Apex Legends Best Heirlooms
The List of Best Heirlooms in Apex Legends
2023-04-25 09:47:49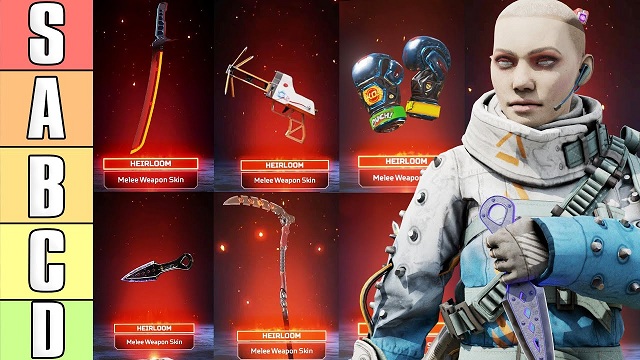 When players play Apex Legends, they usually choose their favorite legends in the match. And they are willing to equip good skins or items with legends. There are different kinds of legends in Apex Legends game. The skins or items in Apex Legends called Heirlooms. Do you want to know the best Heirlooms in Apex Legends? Players can use
Cheap Apex Legends Coins
to unlock the latest legends and skins in the game.
The List of Best Heirlooms in Apex Legends
Loba - Garra de Elanza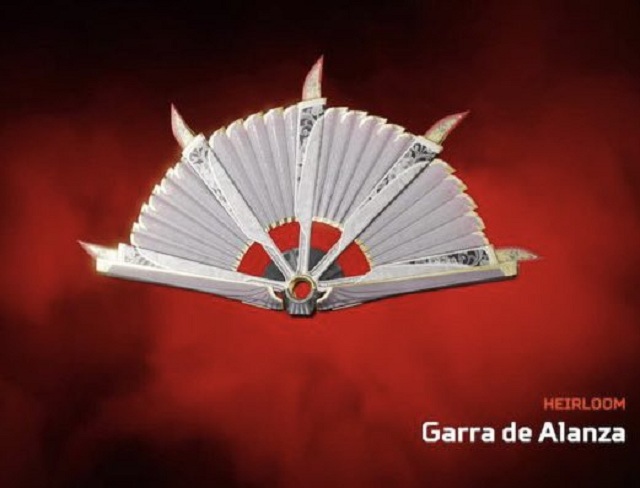 There is no Heirloom sleeker and deadlier than Loba's Garra de Elanza. Oozing finesse and power, this Heirloom is an ethereal-looking fan with a blade on its borders. Other than looking amazing, it has a deep significance to Loba as Garra de Elanza belonged to her mother, who used it the night she was killed by Revenant. The animations for the Heirloom are very clean and showcase her spiteful enmity with Revenant.
Seer - Showstoppers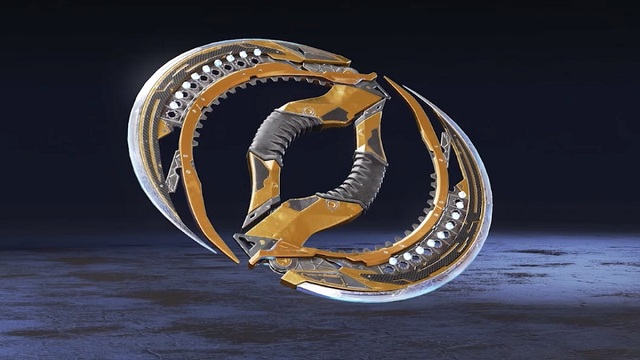 Seer's melee weapons are two metallic blades shaped like crescent moons. These metallic, silver knives have gold accents and mini drones that the legend uses to hear the heartbeats of his enemies.
On top of the deadly blades, many of the inspection animations in this skin feature Seer pulling out a tablet to quickly draw a picture. Keep checking out these drawings, as some of the sketches are rarer than others and feature other legends in the game.
Wraith - Kunai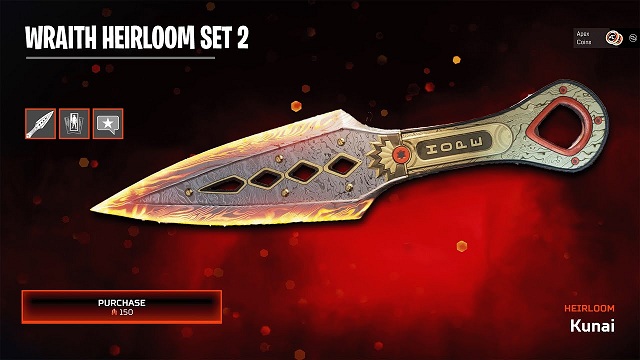 This was the very first heirloom item added to Apex Legends. During the early seasons, Wraith featured a running animation like Ninjas from Naruto. So, naturally, the developers decided to give Wraith a weapon that a Ninja would use. A kunai, to be precise.
This isn't a very fancy heirloom compared to newer ones, but players loved it back when it was added to the game.
Revenant - Dead Man's Curve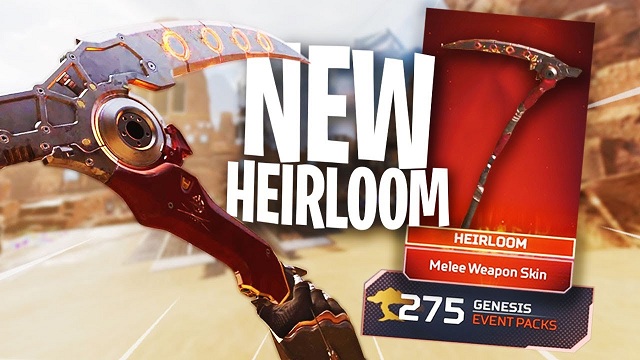 Revenant received his Heirloom in the Genesis collection event. Unsurprisingly, Respawn decided that a deadly-looking scythe would be a perfect fit for Revenant. The animation department at Respawn literally went all out with this one, as it has one of the most visually appealing inspect animations of any Heirloom.
Gibraltar - War Club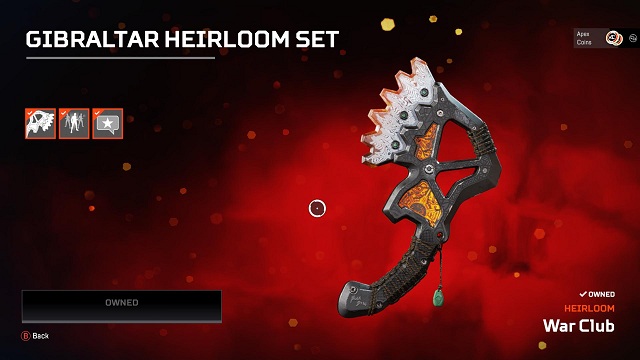 Released on January 2021. This is one of the best heirlooms in the game, it looks absolutely gorgeous, it has flames coming out of it and the inspections look really good, but most important, when you hit someone with it, you really feel its heaviness and that you're really hurting them.
Crypto – Biwon Blade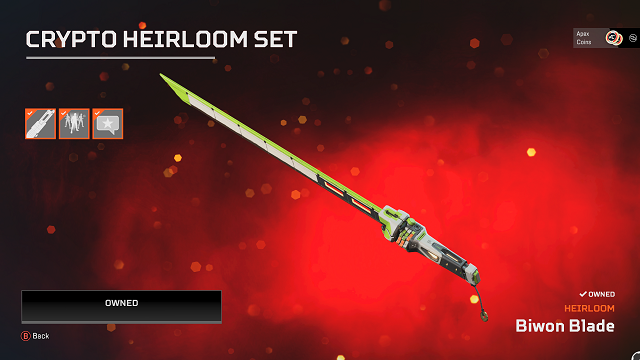 Even though Crypto is a surveillance expert, his Heirloom—Biwon Blade—has design motifs and details inspired by his Korean roots. This katana that Crypto possesses as his Heirloom balances futuristic details against his traditional Asian roots magnificently.
The animations on the blade are smooth and showcase Crypto's blade-wielding skills well. During the inspection animations for the Biwon Blade, you can see a photo of Crypto's family and the deep connection he shared with his hacking drone.
Bangalore - Cold Steel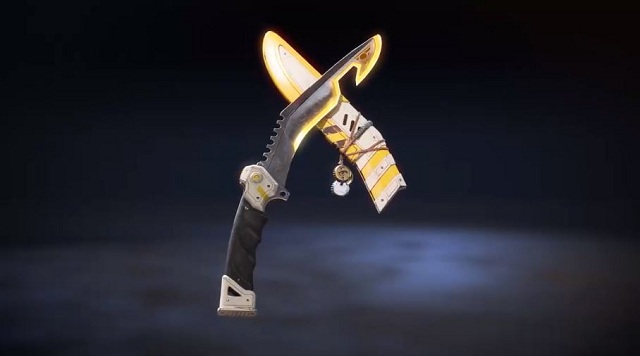 Bangalore's pilot knife. This deadly-looking weapon was added to the game alongside the Chaos Theory collection event in March earlier this year. It has a beautiful gray and yellow color scheme, with plenty of little details on it to match.
One good thing about this heirloom is its connection to the Titanfall franchise. This is a data knife, which is commonly used by titan pilots to hack electronic equipment.
We have listed several best heirlooms of Legends in the list. Some players may think that their favorite are not included. We just list the popular heirlooms in the game. And you can also
Buy Apex Legends Coins
to unlock more heirlooms for latest legends.