Type your order sheet number in the blank and click the button to inquire the transacting status.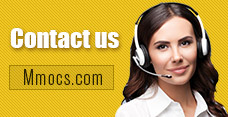 Why Choose Us
Lowest Price
We promise cheapest game currency for all games & platforms with timely update. There're also discounts on holidays.
Quick Transaction
We start transacting and dispatching your purchases once received your orders. No more than 30 mins process.
Safety Assurance
No hacked game currency or account. We promise 100% hand-farmed safe coins & credits with no banned precedent.
Refund Policy
Refund will be processed in 1-2 days, the specifically refund time is based on your payment company. We usually don't accept any request of refund after the order completed.
Notice
Using illegal Leveling or recharge service may cause you account banned!
Black Desert Online Silver News & Guides
Black Dessert Online Gameplay Introduction - Witch

Black Desert Online Cash
Black Desert Online Guides
2017-08-10 08:59:34
Black Desert Online
is the only online game I know, which features stand-alone game graphics standard with grand world outlook and affluent mainline quests. Compared with World of Warcraft, Black Desert Online has more lifelike polished graphics, more distinctive classes designation, much more larger seamless world map than most of previous MMORPG including Aion, Wow, Blade&Soul, the Elder Scroll Online and more.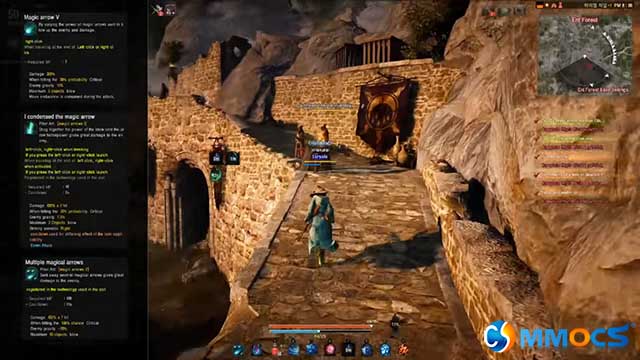 Black Desert Online battling details are much more advanced and refined than most of online game, every single character's motion and gestures are considered by developers. Take the horse as example. Players can manipulate their mount to kick enemies by forehoof or hind legs. To mount a horse from different directions will also trigger different character motion animations. On the contrary, most of online games only provide the mounts as a vehicle rather than a real creature.
Attacks hit on different body parts will also take different effect to enemy. Players can thrust sword into enemy's abdomen and fix them on the ground, or shove aside enemy's weapons by shield to deprive its balance. The day/night alternating system in Black Desert Online remains further authenticity of real life, when in midnight, players can hardly see mobs without torch in wild district.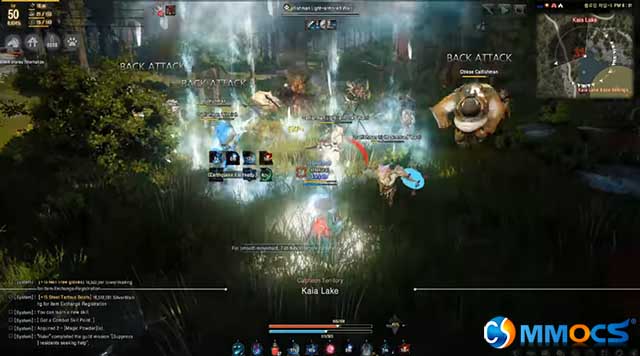 One of the most-sought after class in Black Desert Online is Witch, the female edition of the Wizard. Just like Blood Elf in WoW, Witch features pretty face, hot shape, sexy costume and elegant behavior. Witch shares no difference with Wizard in Black Desert Online, features same attributes, same spells, same weapons, same gameplay, except for different gender of model.
Witch is expert in casting long-range beneficial or damaging spells to rescue and assist allies or damage and restrain enemies. They are not lone ranger and lack of 1v1 ability due to their AoE attacking method and fragility. Timing your spells and position yourself well, acting as a movable battery in the arena. Although Witch can deals fire, wind, earth element damages to enemies extensively, frontline operation isn't the field they specialized in. The best role for them will be a healer or a commander.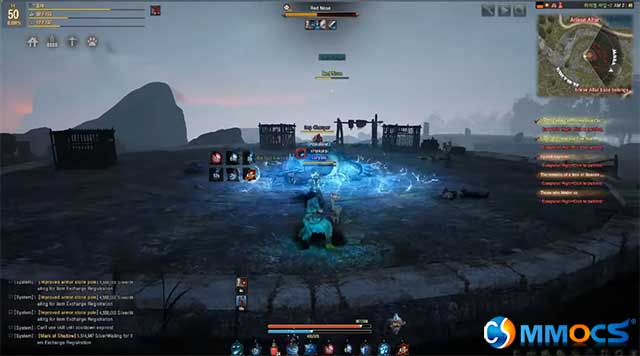 "
Healing Aura
" is an Area of Effect cure spell of Witch, recovers yourself and nearby allies HP & MP by 20% maximum value. It most efficient for rescue warriors and Valkyries due to their extreme HP. "
Magical Shield
" is an offensive spell, protect Witch from damages by consuming Mana. It also provide minor resistance to all kinds of damages for 30 seconds. "
Speed Spell
" is a very useful spell of Witch too, which can increase Witch and its nearby allies' attack, casting, and move speed. But it costs huge MP. Witches can also transport themselves by a short distance, during the casting period, they are immune to all damages. That spell greatly increase the survival rate of Witch, and the chance to catch up escaping weak enemies.
Mmocs.com
now provide cheap and safe Black Desert Online Silver for gamers of all servers. We promise cheap price, fast transaction, and safe payment platform for you. To buy
BDO Silver
, we are your best choice. Have fun!