Type your order sheet number in the blank and click the button to inquire the transacting status.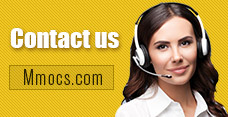 Why Choose Us
Lowest Price
We promise cheapest game currency for all games & platforms with timely update. There're also discounts on holidays.
Quick Transaction
We start transacting and dispatching your purchases once received your orders. No more than 30 mins process.
Safety Assurance
No hacked game currency or account. We promise 100% hand-farmed safe coins & credits with no banned precedent.
Refund Policy
Refund will be processed in 1-2 days, the specifically refund time is based on your payment company. We usually don't accept any request of refund after the order completed.
Notice
Using illegal Leveling or recharge service may cause you account banned!
Anthem Account News & Guides
Check Out Further Details for Anthem Cataclysm Event

Anthem Cataclysm Event
Cataclysm Event Schedule
New Weapon Types
Inviersion
2019-06-03 08:51:45
On Friday,
BioWare shared us with first details about upcoming Anthem Cataclysm event, a limited-time end-game activity that will take place in near further
during its live stream. In this here Anthem Cataclysm guide we'll walk you through all the latest updates on the end game event.
Anthem Cataclysm Event Overview
Anthem's first Cataclysm is set to take place in mid-July and will last eight weeks total -- two weeks of "pre-events" and six weeks of the real deal, which seems to function like a mini-freeplay mode.
During that time, players will be able to load into a special area with its own overhead map broken up into different sections that can be explored in any order. In the new area, players will take part in varoius raid-style events and complete activities. Meanwhile, leaderboards will keep track of the top achievers, and participants will be able to earn currency to purchase war chests. The contents of these loot boxes will change week after week, starting with some new melee augments before finally offering some brand new types of weapons that haven't been unveiled yet.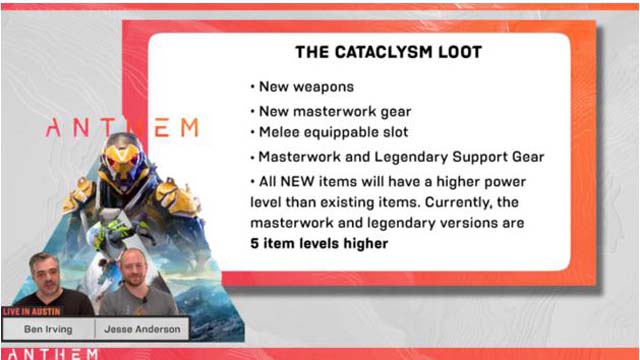 The new scoring system adds a competitive element to the event. BioWare says to maximize your score, there are plenty of secrets and puzzles that players can complete that add bonus multipliers. One of the more obvious ones, for example, is killing enemies while suffering from the harmful effects of the storm, which doubles the points you get.
A new feature called inversions will be added, which essentially act as gameplay modifiers, and they change every week. Examples of inversions included players earning their ultimate 400% faster, shotguns can net players double points, etc. This will be used to keep gameplay variety up throughout The Cataclysm, which is intended for four players, and is being designed to be accessible for all levels.
New weapon types will be added, but won't be available at the start of The Cataclysm. Stronger Masterwork and Legendary support gear and melee variant slots will be added. They won't change the appearance of your melee weapon, they will change how powerful it is and what its secondary status effects are. That will give players more options in how they execute attack combos. Also, the Luck stat will be removed from the game, and much more loot will drop for everybody as if they had full Luck - those who have Luck builds will have that stat replaced with extra Armor. All new items will have a higher power level - specifically, Masterwork and Legendary items will be five item levels higher.
So far, the game developer hasn't confirm official release date of Cataclysm. But players possibly get to see it sometime this month. Prior to Cataclysm, there is going to be public test for PC players to try it out and provide feedback. We will keep the story updated, so stay tuned to
mmocs.com
. In addition, if you are in need of
Cheap Anthem Shard Packs
, you can visit our website as well.