Type your order sheet number in the blank and click the button to inquire the transacting status.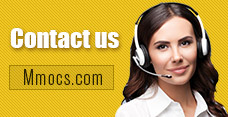 Why Choose Us
Lowest Price
We promise cheapest game currency for all games & platforms with timely update. There're also discounts on holidays.
Quick Transaction
We start transacting and dispatching your purchases once received your orders. No more than 30 mins process.
Safety Assurance
No hacked game currency or account. We promise 100% hand-farmed safe coins & credits with no banned precedent.
Refund Policy
Refund will be processed in 1-2 days, the specifically refund time is based on your payment company. We usually don't accept any request of refund after the order completed.
Notice
Using illegal Leveling or recharge service may cause you account banned!
My NBA 2K17 RP News & Guides
Download My NBA 2K17 in Appstore and Google Play

My NBA 2K17 RP
My NBA 2K17 Guides
2017-06-13 09:02:46
My NBA 2K17
is the pocket edition of NBA 2K17, developed by Visual Concepts and published by 2K Sports for iOS and Android portable devices in 2016. It's a 3D video basketball simulation game revised upon console version NBA 2K17 and granted by National Basketball Association. Now the game is popular among young people who love the basketball and mobile games.
Different in some aspects with PC, PS4, and Xbox One version,
My NBA 2K 17, actually is a slimmed version of the authentic NBA 2K17
, which requires less hardware capability and battery consumption in the consideration of mobile device's specialties. If your mobile phone is iPhone 6S with 100% battery, you can play 4-5 hrs My NBA 2K17 continuously.
As the
best-selling basketball simulation mobile game
on both iOS and Android, there's an fast and easy way for players attending this big family. Annually, My NBA 2K series is the necessity of basketballer and basketball fans on their phone. Now the My NBA 2K17 has officially landing on the iOS App Store and Android Google Play.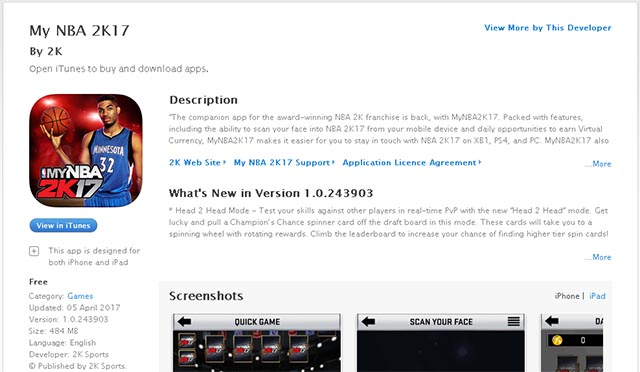 How to download My NBA 2K17 in App Store?
For
iOS
devices, there's 3 ways for you to get the game:
● iTunes
To download My NBA 2K17 by iTunes, you should have a Mac of Windows PC first. Install iTunes for your pc, and wait for the first initialize preparing works and auto-download drivers. If that finished, connect your iPhone with your computer with lighting data line. Click "I Agree" button on your phone to promise the connection.
Download the App on the iTunes Store and synchronize your iTunes with you iPhone or iPad. Then you can find My NBA 2K17 App on your mobiles. When you first start the app, it will ask for an allowance of the notification of game information. We suggest you reject it because the backstage activities will consume more battery electricity.
● App Store
Just click the "App Store" in the main screen of you iOS devices. Switch the screen to the search class, type "My NBA 2K17" in the search bar and click "Search". Then there will be a list of searching result. Find the "My NBA 2K17" published by "2K". Download it and switch to the main screen, you can play the game now.
● Jailbreak
If your iPhone are jailbreak, you can install the ipa file you download on jailbreak forums. But do not use the cracked version or 2K Sports will ban your account permanently! Once you log in the game, you should create your character first, and then complete the tutorial game. The following content is similar with the console one, just enjoy it!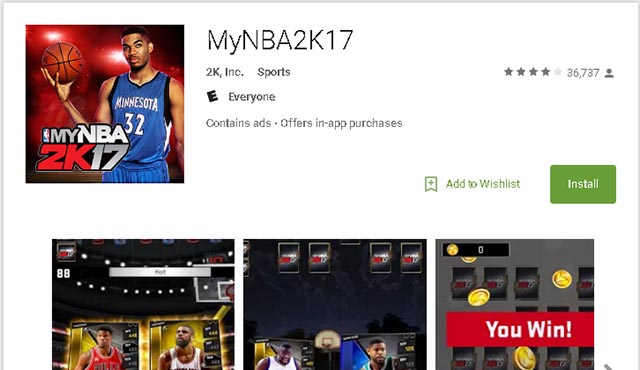 For
Android
devices, the method become much more easy and fast.
● APK
1. Google "My NBA 2K17" on your pc and download the apk file from Google Play webpage or third party (may not the latest version).
2. Connect your phone to the your pc, or pull out your micro SD card on your phone and insert it in your pc's case interface by card reader. Copy the apk file to your phone memory storage or the SD card. Then get the SD card back to your mobile. Find the apk in your mobile's file management and install it directly.
3. Switch the install path to your SD card, in case of system storage excessive occupation.
It sounds complex but easy to do, you can store the apk file in your mobile's sd card in case of the game crash.
● Google Play
Open the Google Play app on your phone. (if there's no Google Play on your phone, you can download it first or just skip this method). Same with the App Store method, search the "My NBA 2K17" and download it. Then you can start the game!
● Native Store
Native Application Store is a transform of Google Play, which will mostly concern at the local market or some special countries situations. For example, it will recommend the local social app such as snapshot in US, and the QQ in China respectively. The specific steps are same with Google Play and App Store.
Have you got the My NBA 2K17 yet? If you have trouble in downloading the app you can ask our online support for help. We also sell cheap
My NBA 2K17 RP
with cheap price, fast transaction, and legit payment platform. Now the MyNBA 2K17 RP is on Sale, do not miss it! Best wishes for you!
3%-off Coupon:
MMOCSVIP